Jaguar's first electric SUV campaign
A full 100% digital campaign with awareness, consideration and conversion phases for the Jaguar I-PACE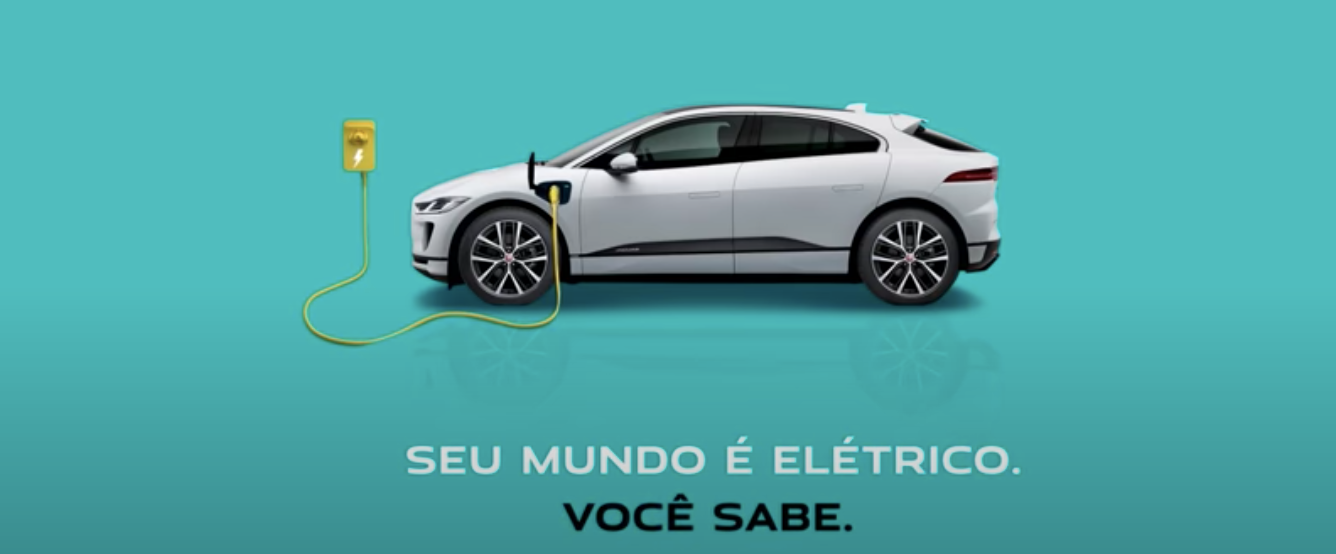 A few months after the arrival of the Jaguar I-PACE to Brazil, the brand's first electric car and one of the few 100% 
electric models in the country, the team realized that one of the factors that kept potential leads away from
conversion were doubts about the product. 
How many miles a full charged battery can make?
How do I recharge the vehicle? 
Will the electric model keep performing as well as the other Jaguar cars?
The questions people had were discovered through surveys carried out directly at dealerships and on social media.
That's when we asked ourselves: how to communicate our value proposition and also make potential customers
realize that an electric vehicle is no rocket science? 
The answer was, actually, quite simple to find:
we would remember everyone that they already had adopted electricity in many ways
in their lives and having an electric car was a a perfect and logical continuity to that. 

"Your world is electric. You know it."
Phase #1: Launch for awareness
First things first: we started reaching out to our target with a 30-second-video that could make them see how an electric car is just as simple as their phones or even their stove – we need electricity to light up the fire, right?
Phase 2: Giving answers for consideration
After the first phase, we wanted to make an impression on those people who viewed the video for more than 50% of the time with more specific content on electrification. That's when we started explaining what they most wanted to know in short videos.
Autonomy
Having doubts about where the Jaguar I-PACE can go with one charge? The beach. The mountain. The countryside. The I-PACE has up to 470km of autonomy. Enough to go anywhere. Your world is electric. You know it.
Performance
Having doubts about the electric Jaguar's performance? The I-PACE can get to 100km/h in 4.8 seconds. Instant torque. And its electric engines generate 400PS and 696Nm of torque. Your world is electric. You know it.
Phase #3: Getting deeper for learning and conversion
Here is where we started remarketing with deeper content on electrification. 
With Facebook Canvas, emails marketing, banners and others digital formats, we presented our target the yellow brick road to all the details about having an electric car as the Jaguar I-PACE. 
Along with these final learning points, our audience was ready to finally request a price quote: they already knew everything they needed to know to finally have a 100% electric Jaguar I-PACE.⚡



The final result? Huge sales growth!
At that year, in the quarter the campaign took place, Jaguar sold 75% more cars than the first quarter of that same year, which represented 41% of the total amount of I-PACE sold in Brazil up to that point. Way to go, right!? The campaign was so successful that other countries wanted to adapt it to their markets and the campaign was also developed in South Africa. A reason to be proud for the whole team!
Thanks for everyone involved in the project!
All credits to ⬇️
Spark44 Agency
Account managers: Thibault Plantet, Luis Felipe Feresin Ferreira and Mayara Prado
Managing Director: Leticia Thenard
Planning: Jonas Octaviano
Creative writer: Renata Losso (that's me! 😉)
Art director: Rafael Voltolino
Social networks: Mike Ribeiro
Media: Paulo Torres, Gustavo Barauna and Paulino Cassiano
Motion: Kenji Watanabe
Project Manager: Christian Nigmann
Client: Jaguar Land Rover
Product: Jaguar I-PACE